A strong asset of our group is the mix of disciplinary strengths that are brought together to address important inter- and multi-disciplinary questions that underlie the complex functioning of ecological and environmental systems. Although the scope of research across life and environmental sciences is broad and multi-faceted, our research priorities focus on the following strategic areas: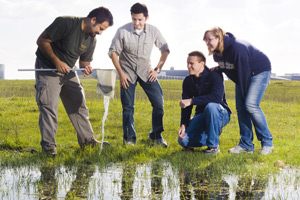 Research in the interrelated biotic and abiotic factors that regulate the structure and functioning of terrestrial and aquatic ecosystems, and responses to changing climate and anthropogenic pressures.
Basic and applied research in the molecular, chemical, biochemical and physical processes underlying the sustainable use of water, air, soil and living resources over a range of spatial and temporal scales.
A gene-to-ecosystem perspective for understanding the interactions among organisms and the environment, and the use of evolutionary biology and ecological principles in the research and management of resources and ecosystems.
Faculty use a variety of cutting-edge methods in genomics, genetics, stable isotopes, spectroscopy and computation in both basic and applied research. Current faculty research topics include:
Ecology and biogeochemical cycling in response to changing climate
Coupled biotic and abiotic factors in ecosystems, soils and aquifers
Microbial ecology, evolution, symbiosis and environmental genomics
Origins, maintenance and loss of marine biodiversity
Paleoecology and biogeography of recent climate change
Pore-scale fluid dynamics and chemical reactivity
Remediation science and water/soil sustainability
Biological responses to environmental challenges
Ecological genetics of marine and terrestrial systems