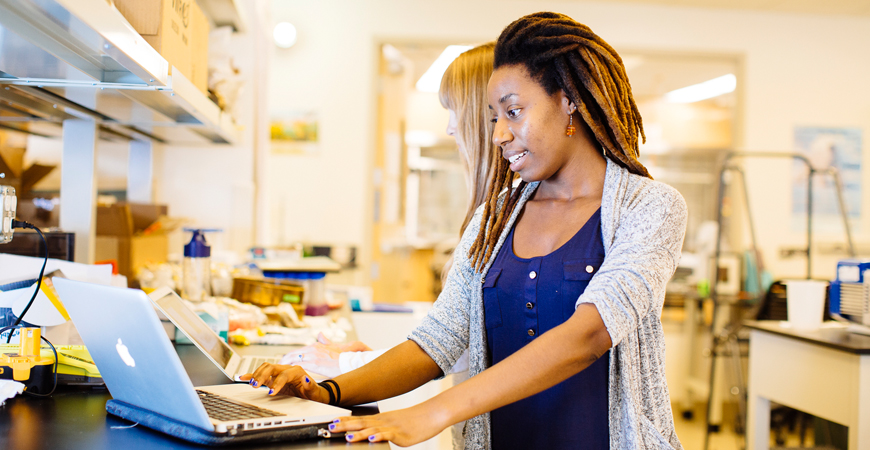 UC Merced offers an undergraduate major leading to a B.S. degree in Earth Systems Sciences (ESS) or Biological Sciences (BIO) and a minor degree program in Environmental Science and Sustainability.
Environmental Systems Science
The Environmental Systems Science major is designed to prepare students to meet the challenges of environmental and ecological research in the 21st century. Students who study Earth Systems Science will gain a quantitative understanding of the physical, chemical and biological principles that control the processes, reactions and evolution of the Earth as a support system for life. The major emphasizes a highly interdisciplinary approach, incorporating field studies, laboratory experiments and computations.
Complementary coursework in the social sciences will expose students to the political, economic, and societal implications of human interactions with the environment. A unique aspect of the major is its flexibility — students can select upper division classes in areas that reflect their individual interests within Earth Systems Science.
This educational experience provides students with knowledge of the foundations of Life and Environmental Sciences and the skills needed to apply Life and Environmental Sciences to the real-world phenomena in the social sciences, natural sciences and engineering.
Biological Sciences
There has never been a more exciting and important time to study biology. From using the human genome to understand the molecular and environmental interactions that cause human disease, to predicting the effects of global climate change on ecosystems, it is essential that we understand fundamental processes that produce and sustain life on Earth. The Ecology and Evolutionary Biology emphasis in the Biological Sciences is at the forefront of finding answers to some of society's most vexing problems. Biology students graduating from UC Merced will have a common foundation necessary for biologists in the 21st century, as well as specialized skills and knowledge to aid in their pursuit of careers in biology-related fields or graduate/professional school training.   
Environmental Science and Sustainability
Environmental science is an interdisciplinary academic field that focuses on application of concepts and methods from the physical, chemical, biological and social sciences to the study of the natural environment, and seeks solutions to environmental problems. Sustainability science aims to improve the quality of human life within the carrying capacity of supporting ecosystems.
The Environmental Science and Sustainability minor at UC Merced will allow students from diverse backgrounds to pursue interests in earth and environmental sciences in some depth without requiring the breadth of course work and extensive laboratory and field time required for the Earth System Science major.