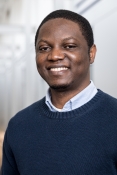 Education:
Ph.D., 2016 – Meteorology and Physical Oceanography, University of Miami, FL.
M.Sc-Eq. Diploma, 2011 – Earth System Physics, International Centre for Theoretical Physics, Italy.
B.Sc., 2008 – Physics, Federal University of Technology Akure, Nigeria.
Research Interests:
Understanding the interactions of aerosols (such as dust aerosols, smoke aerosols, and other carbonaceous aerosols) and their unique impacts on the regional and global climate
Aerosol-climate interactions, aerosol-meteorology interactions, atmospheric physics, air-quality, and aerosol-health impacts.