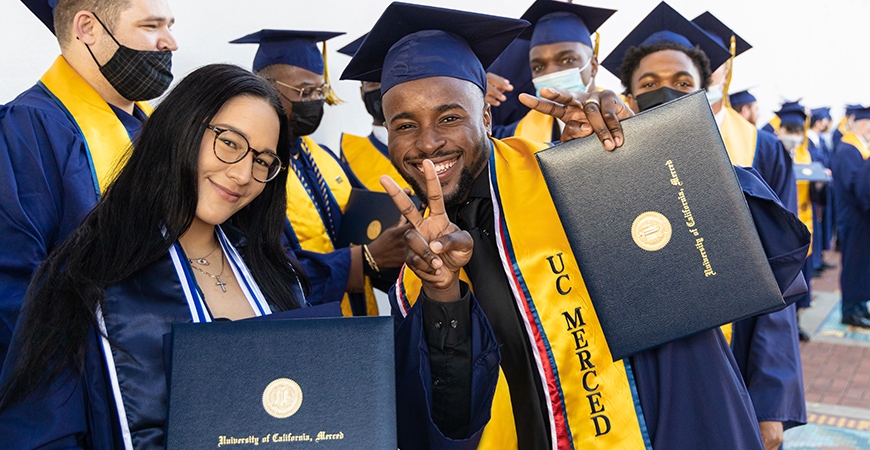 Downtown Merced will be covered in a sea of blue and gold over two days as hundreds of UC Merced Bobcats take part in fall commencement. Also, for the first time, graduate students will have their own ceremony to celebrate their achievements.
The pomp and circumstance kick off with the inaugural Graduate Division Commencement Ceremony at 6 p.m. on Friday, Dec. 16.
Undergraduate candidates from all three schools will be celebrated on Saturday, Dec. 17. Students from the School of Social Sciences, Humanities and Arts will cross the stage during their ceremony at 9 a.m. Later in the day at noon, students from the School of Natural Sciences and the School of Engineering will take part in the final commencement ceremony of the year.
All three ceremonies will take place at the Art Kamangar Center at the Merced Theatre, 301 W. Main St.
Duval Johnson ('14, '18) has been selected as the keynote speaker for the Graduate Division Commencement Ceremony. The alumnus leads the Applied Tribology Lab at NASA's Jet Propulsion Laboratory in Pasadena and has been instrumental in various missions, including the Mars Perseverance rover. While at UC Merced, he earned bachelor's and doctoral degrees in mechanical engineering, and was also part of the Fundamental Tribology Lab.
Max Espinoza will speak at both Saturday ceremonies for undergraduate students. He is a senior program officer at the Bill & Melinda Gates Foundation, where he focuses on advancing educational equity and economic mobility in the United States. The first-generation college graduate holds a Bachelor of Arts from UCLA and a master's degree in education from Harvard University. Espinoza served as a student regent on the University of California Board of Regents. In that role, he was an active member of the Special Committee on UC Merced, charged with overseeing the creation of the 10th UC campus, and also was a member of the UC President's Advisory Committee on the selection of the first UC Merced chancellor.
The university expects to graduate nearly 550 students with degrees and certifications, and about 450 Bobcats plan to participate in fall commencement. Students who completed their coursework over the summer have also been invited to join in the ceremonies.
The breakdown of Fall 2022 Commencement is as follows:
Graduate Division
Friday, Dec. 16, 2022
6 p.m.
School of Social Sciences, Humanities and Arts
Saturday, Dec. 17, 2022
9 a.m.
School of Engineering and School of Natural Sciences
Saturday, Dec. 17, 2022
Noon
Tickets have been distributed to graduating students and are required for admission into the venue. Free parking will be available at multiple lots in the downtown area.
Those wishing to cheer on the graduates but unable to attend in person can watch a livestream on the university's commencement webpage.