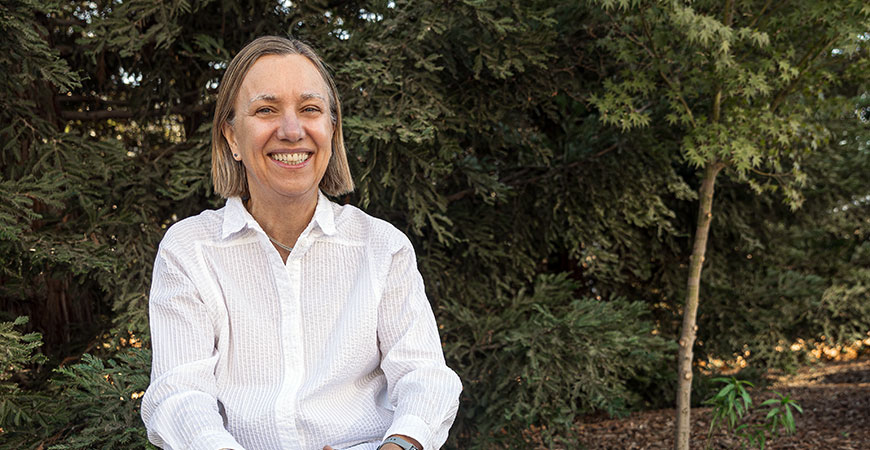 Professor Martha Conklin started her career at UC Merced at the Castle Research Facility, and it began with a frightening surprise.
"I had a baby rattlesnake in my office," she said. "The whole building was snake-infested before UC Merced moved in. But it's a small thing — there were a lot of things to work out back then."
Those were the early days, when the Castle facilities were the campus's only facilities and were referred to as the "Wild West." And like Annie Oakley before her, Conklin has been a trailblazer, both on campus and in the living laboratory that is the Sierra Nevada.
Of the initial eight non-administrative faculty members hired, Conklin was the first to arrive. She was the first female faculty member hired for the School of Engineering.
She was one of the first faculty members to join the Sierra Nevada Research Institute (SNRI) and helped develop the Environmental Analytical Laboratory. Through many grants and with many collaborators, she helped develop an extensive field-based research program, including being a co-lead on the 15-year National Science Foundation (NSF) -funded Southern Sierra Critical Zone Observatory, which helped launch the careers of many graduate students and postdoctoral fellows and generated many millions of dollars of research support.
Her research into water quality, water movement and the interaction of surface water and groundwater in natural settings has taken her all over the Sierra Nevada and the Central Valley.
But as of this summer, she's left the field research in the mountains and the Valley for emerita status at her Bay Area home.
Like the other founding faculty, Conklin worked endless hours on little sleep, served on every committee at one time or another, helped recruit and hire faculty, developed curricula and laid the groundwork for the departments that would come later, all while maintaining her own research, teaching and service.
But one thing that really stands out about Conklin is the boundless respect she has earned from colleagues, collaborators and students.
Fellow founding Professor Thomas Harmon is still influenced by teaming up with her in the first semester of classes.
"Martha and I were co-teaching the first real environmental engineering class to a small group of transfer students. The students were quiet and apprehensive, probably because of all the construction and facilities shuffling, this being their first class in engineering and because many of them were first-generation students with little or no idea of what to expect," he said. "I'll never forget how Martha broke the ice with them."
They sat around a big table in the library, and in her calm, gentle, but firm way, she told the students class would be challenging, and not just because of the newness of their surroundings.
"However, she also emphasized that we could not compromise on content or quality, but that we would get through it together and learn a lot together," Harmon said. "She unleashed a few difficult, open-ended problems and told the students to pair up with a classmate. We mixed with the students, offering hints and correcting missteps. By the end of the class, it was obvious the students were much more at ease, but they also saw that they would need to work hard and draw on their different backgrounds and strengths to master the material. I think about that day every time I kick off a new class, trying to recapture that atmosphere and outcome."
"(A good mentor is) someone who sees their success in yours and helps you overcome failures. Martha was that mentor for me, and I cannot thank her enough for everything that she has done during my time at UC Merced. She has helped me grow personally and professionally."
Living in the Meadows
Conklin brought her research from the University of Arizona and adapted it to her new laboratory in the Sierra Nevada. She is married to fellow founding faculty member Professor Roger Bales.
"Roger has a love affair with the Sierra Nevada," she said of what brought their family to UC Merced. "Also, it was exciting to be part of the highly interdisciplinary environmental engineering graduate program being built here."
Her work has focused on how dissolved materials — organic and inorganic — move through streams and their complex surroundings and provides insight into the paths water takes and some of the major processes such as how long it takes snow melt to reach the streams, the rate of evapotranspiration in the meadows or the source of groundwater discharge in a stream.
"It started with me questioning why, if we got all our precipitation in the winter, did our rivers still run in the summer," she said. "I started looking at the interaction between the snowpack and the rivers and some of the sources of water in the rivers, and that morphed into looking at the meadows."
Meadows, she explained, are much bigger than just a flat green area in the mountains. They can represent the whole catchment, and her most recent research has been about mountain headwater catchments.
For seven years, she served as the lead water researcher on the Sierra Nevada Adaptive Management Project (SNAMP). She and others from UC Merced studied forest management through deliberate experimentation to find treatments to improve forest health and reduce fire severity.
"Using models calibrated by years of data, we were really pleased with the results, because they showed that even with a light treatment — removing 10 percent to 15 percent of the biomass — we actually did have measurable increases in water responses in certain catchments in wet years," Conklin said at the time. "That's exciting because it means where you treat makes a big difference."
The researchers proposed restoring sustainable forest densities, which would also help control the intensity of wildfires.
She is proud of her research in large part because so many other researchers have been able to build on it.
"I feel like we have definitely made contributions," Conklin said.
Education and Outreach
Environmental education for K-12 students is a particular passion for Conklin. For about a decade, she has worked with Global Learning and Observations to Benefit the Environment, a science education program funded by the NSF and NASA to promote worldwide collaboration of primary and secondary students and teachers with scientists in environmental research.
Conklin taught a science module to elementary school students in Catheys Valley, has been a guest speaker at high schools around the area and co-teaches an engineering module to fifth graders as part of the American Association of University Women's science camp.
She also served on the NatureBridge Yosemite board, an educational nonprofit that brings 13,000 sixth- through 12th-grade-grade students from around California to Yosemite National Park each year.
"Children often decide if they are good in science by fourth grade, so exposing them in the earlier years is important," she said. "Also, parents will often change to provide better futures for their children. Teaching children about environmental problems is one way to change society."
Part of her outreach has been on campus, with researchers and other colleagues.
"For an early career faculty member, nothing is more valuable than having a selfless mentor who is committed to your wellbeing and success," said adjunct Professor Safeeq Khan. "(A good mentor is) someone who sees their success in yours and helps you overcome failures. Martha was that mentor for me, and I cannot thank her enough for everything that she has done during my time at UC Merced. She has helped me grow personally and professionally."
As a mentor to her graduate students, Conklin helped them see things in a new light.
"I was working outside Martha's office and saw another grad student go in to meet with her. The grad student had some research results but wasn't sure what to do next. After he came out of the meeting, I asked him if he now had a clearer direction. He said no — not because he didn't have any ideas, but now he had 15 different ideas after talking with Martha for only an hour," said Phil Saksa, one of her first graduate students and the co-founder and chief scientist at Blue Forest, a nonprofit that creates sustainable investment solutions to environmental challenges. "Martha is great at brainstorming research concepts and ideas, but she never guides you toward one single path — she always opens your eyes to the many options available."
Looking Back and Looking Ahead
Conklin has had an extremely busy and somewhat flashy career.
She has written several book chapters, hundreds of research papers and conference papers, given dozens of presentations around the country, delivered seminars around the world, written dozens of op-eds and environmental reports, and helped produce and was featured in three full-length documentary films about California's watershed. She was also featured in an episode of "NBC Learn: Sustainability: Water – Sierra Nevada Snow Pack & Snow Melt," which can still be seen on YouTube.
She has been the Merced Division faculty chair, helping secure the first MOU with the system for campus support; Environmental Systems Graduate Group chair; faculty director of the Merced Natural Reserve System, which includes the Yosemite Field Station and other field stations and the Merced Vernal Pools and Grassland Reserve, adjacent to campus; and interim director of the Sierra Nevada Research Institute. She served on the American Academy of Science's National Research Council Committee on River Science at the U.S. Geologic Survey and has given presentations and briefings to several of California's policy influencers and lawmakers.
"Martha will be hard to replace," Harmon said.
She is still overseeing a couple of graduate students, but likely won't spend much time commuting from her Contra Costa County home now that she is retired.
One of her first priorities now is to give time to that community.
"We need a new library, so I hope to become involved in making that happen," she said.