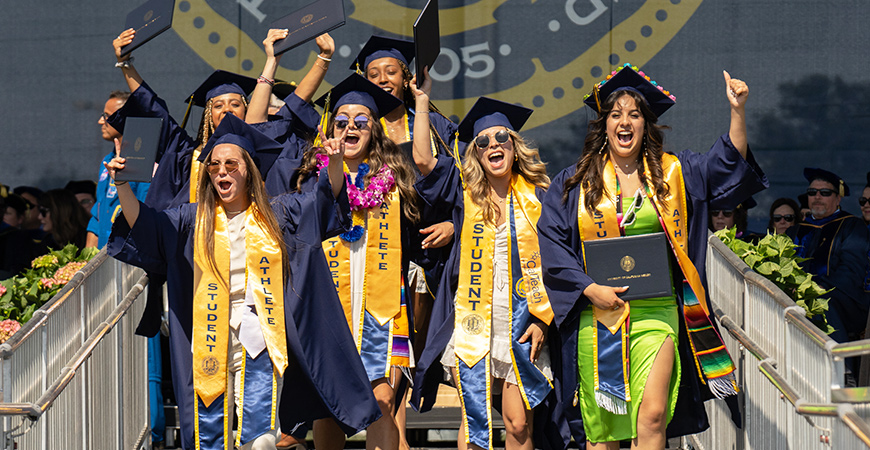 A sea of blue and gold regalia filled Recreation Field as hundreds of UC Merced Bobcats crossed the stage during commencement weekend. Almost 1,500 students took part in three distinct ceremonies celebrating the Graduate Division, School of Engineering (SoE), School of Natural Sciences (SNS) and School of Social Sciences, Humanities and Arts (SSHA).
"You have persevered through challenges and overcome obstacles - never more so than during the pandemic - and you leave UC Merced more prepared than ever to succeed in your careers and in your lives," Chancellor Juan Sánchez Muñoz said. "You are boldly setting out to contribute to a world that desperately needs your ideas, your problem-solving abilities, your passion, and your willingness to explore, create and innovate."
Master's and Ph.D. candidates heard from a familiar voice. Environmental public health Professor Ricardo Cisneros ('08) was the keynote speaker for the Graduate Division ceremony on May 12. He joined the faculty in 2013, five years after earning the first doctoral degree conferred at UC Merced - a Ph.D. in environmental systems. Cisneros spoke about his unlikely path to UC Merced as the son of parents whose education was limited to elementary school.
"Stay true to yourself. Don't be afraid to take risks and to peruse what you believe in," he said in his address to graduate students. "It's easy to get caught up in the competition and compare yourself to others. But remember, you are unique, and you have something special to offer."
At the undergraduate ceremonies, students heard from Joseph Acaba, chief of the Astronaut Office at NASA's Johnson Space Center in Houston. He is a second-generation Puerto Rican American and the first person of Hispanic heritage to hold the prestigious NASA position. He delivered a message about embracing failure and how his mistakes didn't keep him from quite literally reaching for the stars.
"No matter where life takes you, never forget the people, the places and experiences that have made you who you are today," Acaba said. "They are what will give you strength when you struggle. They will give you purpose and will guide you as you navigate the challenges that lie ahead."
Gehad Elhanafy was the student speaker at the SOE-SNS ceremony on May 13. She's a bioengineering major with a political science minor from Merced. During her time on campus, Elhanafy served in leadership positions for the Associated Students of UC Merced and as president of the Muslim Students Association. She received the Distinguished Volunteer Scholarship from the University Friends Circle for her community service work. Elhanafy spoke to her classmates about what it means to be a Bobcat for life.
"No matter where you are, build opportunities together, break challenges together, and achieve triumphs together," she said.
Kimberly Farias addressed classmates at the SSHA ceremony on May 14. She's a first-generation Mexican American student from Madera who double majored in political science and psychology. While at UC Merced, Farias was a lead resident assistant of four residence halls, a member of the International Honors Society in Psychology Psi Chi, and a member of Phi Alpha Delta Professional Law Fraternity where she served as treasurer and community service chair. She also interned at the External Affairs Office of Gov. Gavin Newsom. Part of her speech included a message spoken in Spanish and dedicated to her mom - on Mother's Day nonetheless.
"My 'why' is my family, my mother and my siblings. As a first-generation student, it is important to me to show my siblings that people who look like us belong in higher education and academia," Farias said. "I ask that you take a second and ask yourself who or what your 'why' is. Always remember your 'why' and always let your 'why' guide you into creating your own story."
Anyone who would like to view recordings of the commencement ceremonies or learn more about the Class of 2023 can access the Spring 2023 Commencement Chronicle online.